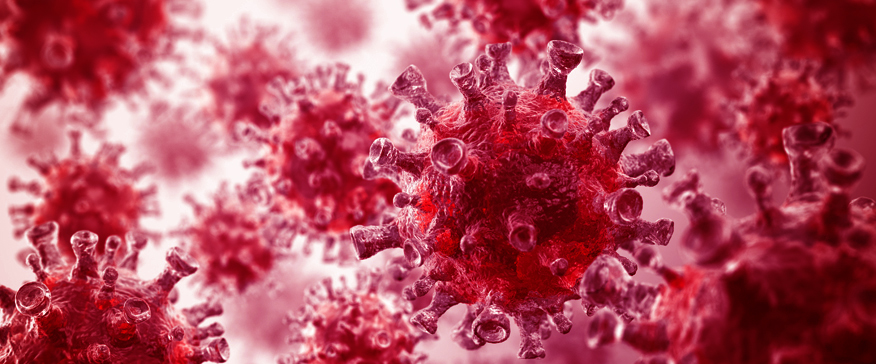 Description
The DeepChek® PR/RT Sequencing Assay is an accessory to product DeepChek® Assay PR/RT Genotyping and Drug Resistance, reference 121A24, and is categorized as "other IVD" products according the EU Directive 98/79/EC.
It provides accessibility of Sanger sequencing technology for downstream sequencing of the amplified products. The specific Sanger sequencing primers are used for preparation of purified amplicons prior to sequencing.
The product enables sequencing of the entire protease gene (1-99) and codons spanning positions 1 to 320 of the reverse transcriptase (RT) gene in the pol open reading frame.
This accessory is only applicable with Sanger Sequencing technology. The combination of this accessory and its corresponding IVD product might aid in the determination of antiviral resistance in clinical samples from HIV-infected patients.
This nucleic amplification test is indicated for use on previously diagnosed HIV patients ONLY.
This test is NOT intended to be used as a screening or confirmation test for the detection, confirmation and quantification in human specimens of markers of HIV infection (HIV 1 and 2).
Indication of Use
The amplified DNA sequenced by Sanger sequencing technology might be used as input material in validated laboratory procedures for genomic variability testing (genotyping) potentially affecting HIV-1 susceptibility to current antiretroviral drugs including protease inhibitors (PI) and reverse transcriptase inhibitors (NRTIs, NNRTIs).
The DeepChek® PR/RT sequencing Assay has been validated in laboratories for Sanger sequencing with its corresponding product. Physicians then may use the related genotyping data in conjunction with patient clinical data to make treatment (drug therapy) decisions.
More information on the DeepChek® Assays – Click here
More information on the DeepChek® Software – Click here
Characteristics and performances
Compatibility with Capillary Electrophoresis (SANGER) platforms
Applicable for any Sanger Sequencing technology-based instrument which can work with Big Dye Terminator v3.1 labeling (standard laboratory consumables, e.g. DeepChek® SANGER SEQUENCING REACTION V1 (24 or 48 reactions) (ABL)
CE-IVD for European Economic Area (EEA) and countries with a mutual recognition of this conformity assessment
Research Use Only for other territories
Amplified DNA which has been purified with suitable PCR purification kits (standard laboratory consumables, e.g. DeepChek® SANGER SEQUENCING REACTION V1 (24 or 48 reactions) (ABL))
PR : 1 to 99
RT: 1 to 320
RT-PCR & Nested-PCR reagents (enzymes, master mixes, primers, dNTPs...)
Validated on HIV-1 subtype B.
The assay is designed to detect HIV-1 subtype B but can also detect other HIV-1 Group M subtypes and recombinant viral sequences. However, as the HIV-1 genome is highly mutable, there will always be a small possibility that some strains of HIV-1 will react poorly with the assay, especially if random mutations occur within the primer binding sites.
Repeatability / Reproducibility
We reached 100% of samples with an optimal Quality at a concentration of 1000 cp/mL (assay cut-off)
97% successful Sanger Sequencing for HIV-1 subtype B
95% overall successful Sanger sequencing for all HIV-1 subtypes
From sample to result in ~15 hours for SANGER
Amplification with any thermal cycler with enough ramp rate of ≥ 1°C/s (i.e. ProFlex PCR System 3x32-Well and 96-Well, Life Technologies)
Compatibility with CE-IVD downstream sequencing software
Validated with ViroScore Suite (CE-IVD) HIV module (Sanger sequencing outputs)
Examples of reports
For SANGER sequencing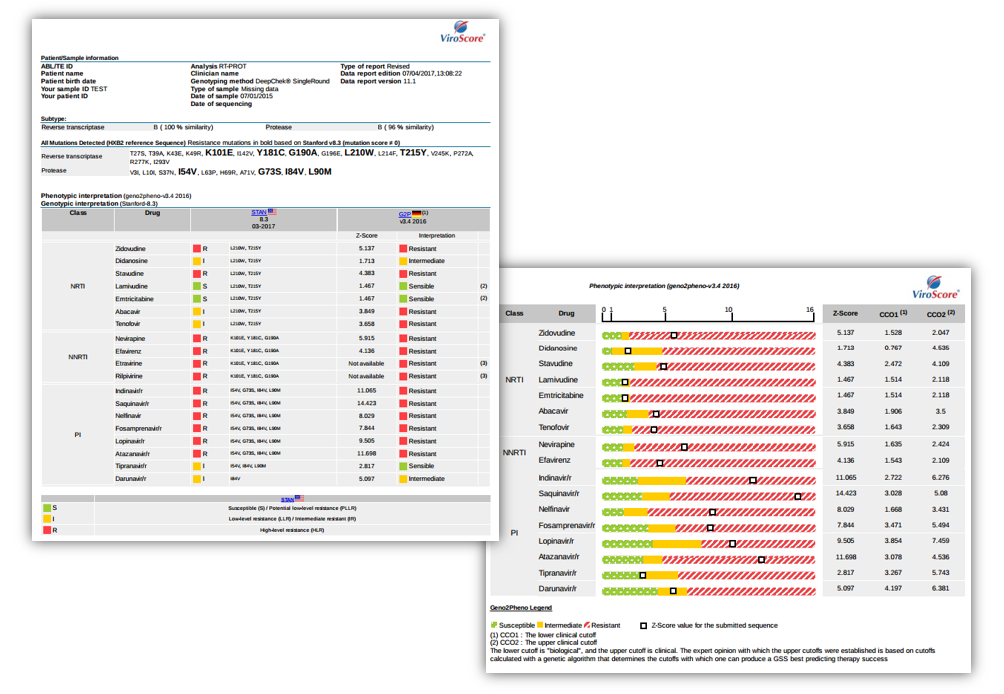 For NGS sequencing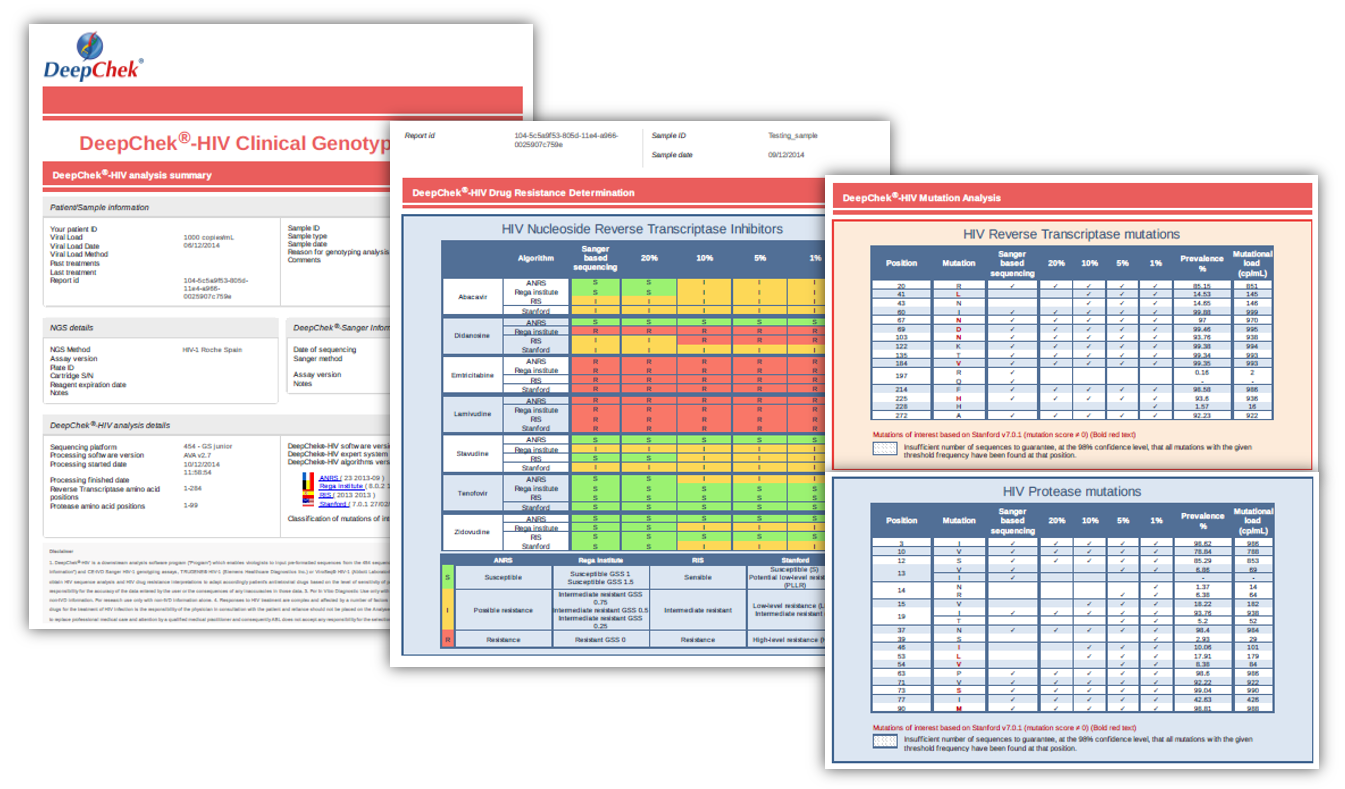 Ordering information
DeepChek® Assay PROTEASE / REVERSE TRANSCRIPTASE Sequencing V1 (CE-IVD)
Accessory for use only with the DeepChek® Assay Integrase (REF 121A24) - For use with Sanger sequencing instruments
125A24
(old reference K-17-SR)
DeepChek® SANGER SEQUENCING REACTION V2 (48 reactions) (GLP)(RUO)
123B48
(old reference K-17-SR)